Affiliate Marketing
Posted in Affiliate Marketing , Feb 22nd 2009, 12:32 am
Internet affiliate programs are a popular way to earn money from your Web site. All you need to do is sign up and begin driving traffic to their links You can generate even more income through affiliate programs that work on a two- or three-tier format. Commissions for these programs are paid for your direct sales as well as sales from sites you recruit (two-tier) and sales from your referrals' recruits (three-tier). Consider these top-paying affiliate programs.
Net Detective is software used to track down information about anyone you know or want to know about through criminal records and other public records information. For each Net Detective sale generated from your Web site, you will earn $20, or about 67% of the cost of the software. You earn 12.5% of the commissions earned by your recruited affiliates.
Affiliate Announcement helps businesses advertise their affiliate programs to Web site owners. Services include writing and distributing press releases, affiliate advertising, and submissions to affiliate directories. Affiliate Announcement pays $50 for direct sales from your Web site and a 25% secondary commission for sales from your recruited sites.
Internet Marketing Center offers a two-tier affiliate program for online business courses that teach business owners how to successfully market and manage their businesses on the Internet. Commissions for the sales of the business programs range from $35 to $165. Monthly recurring commissions for selected courses are from $6 to $35 each month.
VMC Satellite is a three-tier affiliate program for Dish Network Satellite Systems. Each time a satellite system is installed from your site's referral, you are paid $50. Secondary commissions are $15, and installations from your second tier referrals pay $5. This affiliate program can be quite successful because the satellite systems are free and you receive commissions on three different levels.
AffiliateClassroom is an affiliate training program for Web site owners who want to learn how to make the most of an affiliate program. This is a two-tier affiliate program that pays $10 for every sale you make through your affiliate advertising and $5 for secondary commission sales
Marlon Sanders' Amazing Formula is a complete set of reports, DVD's, and other instructional materials that teaches business owners the most profitable ways to sell their products and services. You can expect commissions of 50 – 60% for each direct sale made from your affiliate advertising.
Internet service provider Fall Creek Technologies pays $15 for sales of Web hosting services made directly from your Web site.
Gift Baskets Place sells gift baskets for all occasions. As an affiliate program member, you will earn 10% commission on baskets sold from your site. Basket prices range from $35 to $300.
SmartDraw sells business graphics software and offers commissions of 15% on direct sales up to $1,000 and up to 30% on sales above this amount. This is a three-tier affiliate program, and you can earn commissions from your recruits' sales and sales from your recruits' referrals.
These are just some of the thousands of companies offering Affiliate Programs. Please feel free to share any other High Paying Affiliate Programs.
Posted in Affiliate Marketing , Feb 10th 2009, 11:32 pm
Are you looking for Firefox extensions to save you time and sanity while boosting your productivity and workflow while Affiliate Marketing? Well you've come to the right place. Check out our top 7 Firefox extensions below.
Wow, what can I say? SEO Book packs so much into this extension. Want to know every intimate detail about your competition? Just visit any page to get the low down on it's page rank, pages indexed in Google and Yahoo, Alexa.com rating, Compete.com rating, SEMRush.com traffic value, as well as the age of the domain and links to the wayback machine to see what the site looked like in it's infancy. It also scours social bookmarking sites del.icio.us, digg, twitter and stumbleupon to see how many links are on each site accordingly.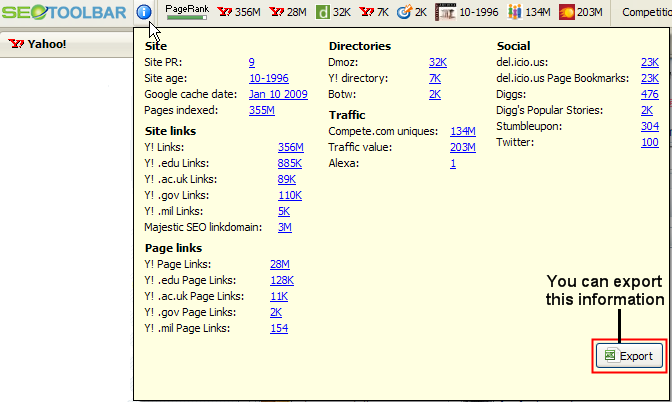 Do you sign up for new Affiliate Networks all the time? It's a drag typing the same thing day after day. Let Roboform do all the heavy lifting. It's also great at remembering login information for multiple accounts with one click logins.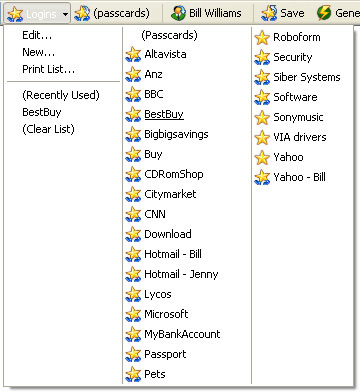 Do you travel a lot? Maybe you don't live in the region that you are marketing to. Google Global allows you to view organic and paid traffic as they appear in different cities, regions, ip addresses and zip codes. This plugin is essential if you are using AdWords.
Refspoof allows you to change the referring url that your browser passes on. It's good if you want to cover your tracks or test out some of your own projects.
Need to make some quick changes to a landing page at 3 in the morning? I don't think that your designer/developer will be happy with a phone call that early. No problem use FireFTP to access your website and make those minor changes yourself. Just make sure you know the HTML basics so you don't break the layout of the page.
Is Firefox your default browser? If so sometimes you forget to check what your landing page or design looks like in Internet Explorer. Make sure there are no mistakes because the majority of the Internet still uses IE. If you're on a mac you will need to either run bootcamp or windows inside of a virtual machine such as Parallels or VMWare.
Switch between user agents within Firefox to see how web pages react. Useful for getting into areas that only allow Googlebot (naughty naughty) & a few other things.
If you know of any other good extensions please let us know in the comments section.
Posted in Affiliate Marketing , Feb 5th 2009, 02:11 am
Internet affiliate marketing can be a "win-win" situation for everyone involved. By placing advertisements for affiliates on your business Web site, you can generate more income for your business. Each time someone that clicks through to an affiliate from your site performs a revenue-generating action, you get a payment. Your affiliates reap the reward of attracting new customers. Affiliate marketing is a great way to earn more income, but make sure you follow these guidelines when you decide to try this marketing technique.
Choose your affiliates carefully.
Use affiliates that have as much integrity as you do. Signing on with any affiliate to generate more income will not be a wise decision in the long run. You have spent time, effort, and money building a good reputation, and you don't want to ruin it by being associated with low quality affiliates. Your clients have come to know your business as a trustworthy and dependable one, and you want to make a good impression on potential clients. Screen you affiliates and resist the temptation to advertise for just anyone.
Make sure your affiliates are value added.
Your site attracts a particular targeted market group. You know the interests, concerns, and problems of this group and serve them by offering your product or service. Considering the characteristics of your clients, what other products and services would benefit them the most? Let your clients know that you are interested in making their lives easier by choosing affiliates that offer products and services that will enhance their lives. Advertising for products and services that will not be of any value to them sends the signal that you're only interested in the money and not their well-being.
Carefully research affiliate marketing programs before choosing which one to use.
There are a number of affiliate marketing programs available. You will need to decide which one is the best fit for you and your clients. Know the specifics of any agreement you make with an affiliate program. You'll want to know how long you are obligated to the program. There is no need for you to stay with an affiliate program that is not working for your business. As long as you're not breaking your agreement, you can find another one. If there are certain products and services you want to promote that aren't included in any of the affiliate programs, contact the vendors directly. You might be able to work out your own special affiliate program deal with them.
Monitor the effectiveness of your affiliate advertising.
Just like any other part of running a business, it's essential that you keep up with how your affiliate marketing program is working for you. If your affiliate ads aren't generating income or are generating less income, investigate to find out the reasons for this. Affiliate ads are not something you can set and forget. Check regularly for updates, additions, and changes to your affiliate program. You'll want to take advantage of every benefit the program offers.
Page 1 of 1, showing 3 posts out of 3 total, starting on post 1, ending on 3